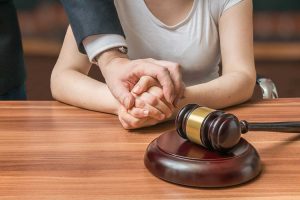 As a consequence to a DUI arrest, a person can face a separate civil penalty of either a 90 day or 12 month suspension of their driving privileges. Pursuant to A.R.S. 28-1395, a 90 day administrative license suspension can be ordered by MVD upon it receiving notice (from police) of a driving under the influence of allegation in which a test was administered and the test results indicate an blood alcohol concentration greater than 0.08% or the presence of any illegal drug or its metabolite.
The law further requires that a person must surrender their driver's license to law enforcement and that police provide a temporary driving permit.
In other words, following an arrest for DUI, police will likely confiscate your driver's license and you will be given either a pink or yellow sheet of paper that reads ADMIN PER SE/IMPLIED CONSENT AFFIDAVIT at the top. 

Importantly, this affidavit contains an order of suspension that begins 15 days after it's given to you. Usually the arresting officer will tell you that this piece of paper serves as your temporary license for the next 15 days. The police officer will also tell you that alcohol and drug screening must be completed before your driving privileges can be reinstated. Then the officer will later file the affidavit with the Arizona Motor Vehicle Department to initiate the suspension of your driver's license. 

For an admin per se suspension (you consented to the test and the results showed a BAC greater than .08% or the presence of an illegal drug) the suspension is generally 90 days, with the possibility of a restricted permit after 30 days if certain conditions are met.
If you refused the test, your license can be suspended for 12 months pursuant to A.R.S. 28-1321 under Arizona's implied consent law. This type of suspension also requires proof of financial responsibility (SR22) prior to being eligible to reinstate your driving privileges. In limited circumstances, a person may be eligible for a special ignition interlock driver license after serving the first 90 consecutive days of the suspension.
Request a Hearing
A DUI lawyer can help you request a hearing with MVD to challenge the suspension of your driver's license or give you more time to have your full driving privileges intact until the admin per se or implied consent suspension starts.
IMPORTANT: All hearing requests must be in writing and must be received in the Executive Hearing Office no more than 15 days after the date on the affidavit. If you mail your hearing request, MVD will add an additional three (3) days to the filing period.
If you mail your hearing request, MVD will add an additional three (3) days to the filing period.
---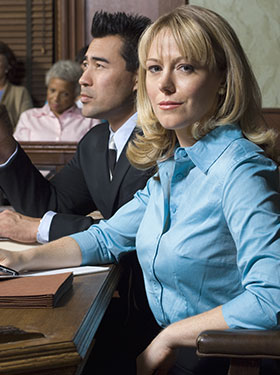 ARRESTED? SUBMIT A FREE CASE REVIEW NOW!
---
What Happens at MVD Hearings?
Well, that depends. There are generally two types of MVD hearings that follow a DUI arrest.
1. Administrative Per Se Hearing
The purpose of the administrative per se hearing is for an administrative law judge with ADOT's executive hearing office to determine whether to uphold or void the (90) day suspension of your driver's license. The scope of the administrative per se hearing will limited to the following, which must be proved by a preponderance of the evidence:
Whether the officer had reasonable grounds to believe you were driving or were in actual physical control of a motor vehicle while under the influence of intoxicating liquor;
Whether you were was placed under arrest for a DUI offense;
Whether the results of any test you submitted to indicated your BAC was 0.08 or more, or 0.04 or more if you were driving or in actual physical control of a commercial motor vehicle;
Whether the testing method used was valid and reliable; and
Whether the test results were accurately evaluated.
If the MVD upholds the ninety (90) day suspension of your driver's license, you may be eligible for a restricted permit. 
To be eligible for the restricted permit, the following criteria must be met:
Did not cause physical injury during the DUI incident
No prior DUI violations in the previous 84 months
No implied consent or admin per se suspensions in previous 84 months
Complete drug or alcohol screening
Must have an Arizona driver's license
A person may qualify for a restricted permit only after serving the first 30 days of the suspension, but MVD may issue a restricted permit for the remaining sixty (60) days of the suspension that permits travel between your home and work, your home and school, your home and any treatment facility for scheduled appointments, and your home and the office of your probation officer for scheduled appointments. 
2. Implied Consent Hearing
These cases are commonly referred to as "refusals." Pursuant to 28-1321, a refusal to submit to a test to determine your BAC following a DUI arrest can result in a 12 month suspension of your driving privilege. 
In order to uphold the 12 month suspension, a law enforcement officer must appear at the hearing and demonstrate he or she had reasonable grounds to believe that the person was driving or was in actual physical control of a motor vehicle in this state either:
While under the influence of intoxicating liquor or drugs.
If the person is under twenty-one years of age, with spirituous liquor in the person's body.
And,
The person was placed under arrest.
The person refused to submit to the test.
The person was informed of the consequences of refusing the test.
In short, the scope of this hearing is whether or not, after being arrested for DUI, you refused to consent to a test after being told the consequences of refusing. If the administrative law judge determines the driver violated the implied consent law, the penalty imposed will be a one-year suspension of the driver's license license.
---
Additional MVD Consequences for a DUI Conviction
MVD will require installation of a certified interlock device for 12 – 18 months for a misdemeanor DUI and 24 months for an aggravated DUI
The court may order additional time for the interlock to be installed in additions the time required by MVD
A person convicted of DUI will be ordered by MVD to attend traffic survival school (TSS)
---
A DUI Lawyer Can Help You Take Action to Protect Your Driver's License
It's important to act quickly if the MVD is taking corrective action against your license. There are several options to protect or preserve your driving privilege when arrested for DUI. Our Phoenix DUI lawyers can help you with your MVD hearing and contest the suspension of your license.