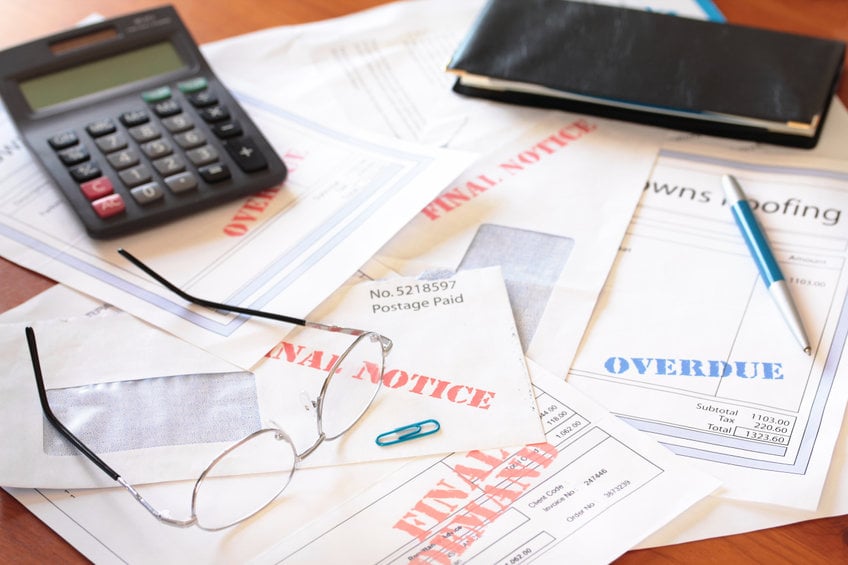 If you're considering filing for personal bankruptcy in Mesa, you're probably wondering about the best way to do so. Filing bankruptcy can be daunting and many are unsure of where to get started. Luckily, the Mesa bankruptcy attorneys from Lerner and Rowe Law Group can help. Our experienced legal team of award winning attorneys can help you with the process and make sure you file correctly and have the most debt dismissed possible.Without qualified legal counsel, it's possible you'll miss out on possible debt elimination.
Our attorneys will assist you with all of the processes below and provide you with a free debt evaluation.
Not sure if you should declare bankruptcy? Here are a few reasons why you might want to:
You have harassing collector calls coming in
Your car will be repossessed
Your water or electricity has been cut off
You can't afford to make minimum payments on your credit cards
You're behind on you mortgage or facing foreclosure on your home
To set up your free case evaluation and consultation, call 602-667-7777. Or, you can connect immediately through our LiveChat feature. Finally, you have the option to fill out this online form.
How Do Mesa Bankruptcy Attorneys Help?
Our Mesa bankruptcy attorneys will review your situation and advise you on the next steps. They will determine which kind of bankruptcy is best for you; Chapter 7 or Chapter 13.
What Is Chapter 7 Bankruptcy?
Chapter 7 bankruptcy allows a discharge of debts. To receive an Order of Discharge, certain requirements must be met. When filing Chapter 7 bankruptcy, unprotected assets may be liquidated to pay back debts while you might be able to keep some protected assets. In Arizona, owned homes and automobiles are protected from creditors up to a certain amount.
Not all debt can be discharged when filing Chapter 7 bankruptcy. Here are some of the types of debt that can be discharged:
Credit card debt
Car loans
Personal loans
Medical bills
Title loans
Payday loans
Car repossession deficiency balance
Money owed on a broken lease
Utility bills
Debts that cannot be discharged in Chapter 7 bankruptcy include:
Student loans
Income taxes (federal, state, and local), except in rare cases
Alimony
Child Support
Secured liens
Government loans, fines, and fees
Restitution for criminal activity
Fraud-related debt
Damages caused by the debtor's DUI
Related Topic: How Declaring Chapter 7 Can Provide Debt Relief
What Is Chapter 13 Bankruptcy?
When filing Chapter 13 Bankruptcy, individuals will repay debts over a certain period of time with a court approved payment plan. All assets and property do not have to be liquidated. The amount paid depends on several factors such as:
The type of creditor being paid (secured, priority unsecured or general unsecured)
The amount of your disposable monthly income
The number of months of your plan
Related Topic: Arizona Chapter 13 Bankruptcy Lawyer
How to File Bankruptcy in Mesa, Arizona
To file for bankruptcy in Mesa, the first step is to figure out which type of bankruptcy is best for you. Our attorneys will review your current financial circumstances and let you know your options. From there, your attorney will decide if Chapter 7 or Chapter 13 is right for you.
You can only declare bankruptcy in Arizona if you meet certain requirements. For instance, have you lived in Arizona for the majority of 180 days or is your property located in Arizona; do you qualify to file a Chapter 7 bankruptcy based on your income and monthly expenses; even if you qualify to file Chapter 7 bankruptcy, will Chapter 7 bankruptcy give you the relief you are looking for? To be sure, schedule a free consultation with Lerner and Rowe Law Group
Here are the steps you'll take when filing bankruptcy with Lerner and Rowe Law Group:
Determine if bankruptcy (Chapter 7 or 13) is the right choice for you
Gather the legal and financial documents required to file bankruptcy
Attend a financial interview with your legal team
Complete an approved credit counseling course
Review and sign your bankruptcy documents with your experienced Arizona licensed consumer bankruptcy attorney
Your bankruptcy team will file your case
Complete an approved debtor education course
If filing a Chapter 13 bankruptcy case, you will begin to make plan payments
Attend a Meeting of Creditors with an experienced attorney
If filing a Chapter 7 bankruptcy case, attend a hearing with your attorney if redeeming an asset or reaffirming a debt
If filing Chapter 7, certain debts will be discharged
What Are the Costs to File Bankruptcy in Mesa?
Most bankruptcy debtors must pay a court mandated filing fee for both types of bankruptcy. The filing cost varies depending on the type of bankruptcy filed.. In a Chapter 7 bankruptcy case, your attorney fee is paid prior to your case being filed; under certain circumstances, attorney fees are paid after the case is filed. You will pay a portion of your attorney fee prior to filing your Chapter 13 bankruptcy case, and the remaining balance will be included in your plan payment.
During your meeting with one of our attorneys, you will receive a free debt review.
Related Topic: $0 Down Bankruptcy
How to Find the Top Bankruptcy Attorneys In Mesa
Mesa Residents can call 602-667-7777 to set up a free case consultation and debt evaluation. Or, you can fill out a FREE online form or text through LiveChat. We are available 24/7 to take your call.