What Is a Felony in Arizona?
A felony is the most severe type of crime that can be charged, and there are 6 classes of felonies. A class 1 felony is the highest level felony, and a class 6 is the lowest. When charged with any class of felony in Arizona, you are looking at the possibility of a sentence of more than one year in the Arizona Department of Corrections. This is a major distinction between a felony and a misdemeanor. For a misdemeanor, a person can be sentenced to a maximum of 6 months in jail (not prison).
When charged with a felony, Arizona requires a finding of probable cause in order for a felony case to proceed to trial. The probable cause determination can happen one of two ways: By Direct Complaint and Preliminary Hearing, or Grand Jury Indictment.
Preliminary Hearing
If the case is charged by direct complaint, a preliminary hearing is required to determine probable cause. A preliminary hearing is an evidentiary hearing at which the state presents evidence and witness testimony before a judicial officer who determines at the close of the hearing whether probable causes exists for the crimes alleged. A missed court date in Arizona can result in additional criminal charges and the issuance of a bench warrant.
Grand Jury Indictment
In Arizona, a Grand Jury consists of 16 ordinary citizens known as grand jurors. A prosecutor presents the evidence to the grand jury, and if 9 of the 16 grand jurors find probable cause exists for a crime, an indictment is returned. Grand Jury proceedings are secretive, and the existence of the grand jury presentment becomes public only after an indictment is issued.

Punishment for Felonies in Arizona
For each class of felony, there is a minimum and maximum sentence that may be imposed. At the time of sentencing, the judge can increase the sentence if aggravating factors exits, or they can mitigate the sentence if warranted by the circumstances. In crafting an appropriate sentence, the judge will consider the facts and circumstances of the offense, the defendant's criminal history, any aggravating or mitigating circumstances, and the character of the defendant.
To illustrate the possible punishment for a felony conviction, the possible sentences for the six classes of felony offenses for a first-time felony offender:
Class 1 felony:
Murder is the only class 1 felony. There are two categories of murder charges: First or Second degree. First Degree Murder is punishable by the death penalty or a sentence of 25 years to life. Second Degree Murder has a minimum sentence of 10 years and a maximum of 25 years.
---
Class 2 felony:
Minimum sentence is 3 years
Presumptive is 5 years
Aggravated is 12.5 years
Probation is available
Examples of Class 2 felonies include: Conspiracy, Manslaughter, Sexual Assault, and Fraudulent Schemes and Artifices.
---
Class 3 felony:
Minimum sentence is 2 years
Presumptive is 3.5 years
Aggravated sentence is 8.75 years
Probation is available
Examples of a Class 3 felony include: Aggravated Robbery, and Possession of Marijuana for Sale (weight of at least two pounds and not more than four pounds)
---
Class 4 felony:
Minimum sentence is 1 year
Presumptive is 2.5 years
Aggravated is 3.75 years
Probation is available
Examples of Class 4 felonies include: Possession of a Firearm by a Prohibited Possessor, Aggravated DUI (third offense; driving on a suspended, revoked, or cancelled license, or driving under the influence with an ignition interlock requirement), and Robbery
---
Class 5 felony:
Minimum sentence 6 months prison
Presumptive is 1.5 years
Aggravated is 2.5 years
Probation is available
Examples of Class 5 felonies include: Unlawful Flight and Unlawful Use of Means of Transportation
---
Why Retain an Experienced Arizona Criminal Defense Attorney?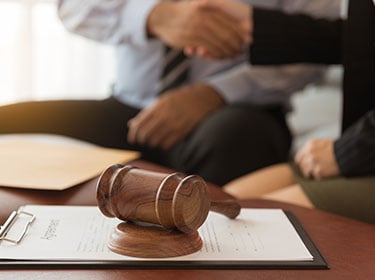 The sentencing ranges can be enhanced if you have prior felony convictions, depending on whether the priors are "historical" or "non-historical." There are also increased penalties for "dangerous" crimes. Dangerousness: an aggravator proven by the state. An example would include the crime committed with a deadly weapon, like a firearm.
In addition to serving time in prison, a felony conviction can subject you to claims of restitution, fines and fees, a term of probation that may include up to 12 months in jail, and a felony criminal record which can impact your ability to obtain employment or rent an apartment, and will cause you to lose your civil and gun rights.
For these reasons, it is essential that you retain an experienced Arizona criminal defense attorney. The Arizona felony attorneys with the Lerner and Rowe Law Group have handled hundreds of felony cases. We know how to challenge the state's evidence and how to look for weaknesses in the prosecution's case to try to dismissing or reducing the charges.
Our criminal defense attorneys will fight to protect your rights at each stage of the criminal court process. Charged with a felony in Arizona? Contact our firm at 602-667-7777 to schedule a free consultation. You can also get in touch with us through our convenient LiveChat feature or by filling out an online contact form. We offer affordable payment plans.