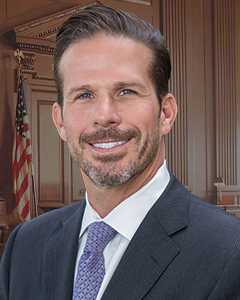 Chad Pajerski is a highly qualified and experienced attorney who specializes in criminal defense cases. He has been licensed by the State Bar of Arizona since 1999 and has over 22 years of criminal law experience. Chad delivers excellent service to his clients by taking a personal, vested interest in each individual case.
Chad Pajerski has been designated a Board Certified Specialist in Criminal Law by the State Bar of Arizona. In order to qualify for such distinction, an attorney must demonstrate the highest of standards in experience, judgment, effectiveness, professionalism and ethics. As a Specialist, Mr. Pajerski has exhibited to his peers the highest degree of competence in the practice of criminal law. There are currently fewer than 70 Criminal Law Specialists practicing in Maricopa County.
For more than 22 years, Mr. Pajerski has excelled in criminal defense with an emphasis on DUI litigation. He has successfully handled thousands of criminal cases in state, city, and federal courts. In addition to receiving hundreds of hours of extended training in DUI litigation tactics, Chad Pajerski has conducted over 75 jury trials most of which involved challenging government expert witnesses and scientific evidence.
Having practiced criminal law exclusively for over 22 years his reputation and experience are his client's greatest assets when entering the courthouse.