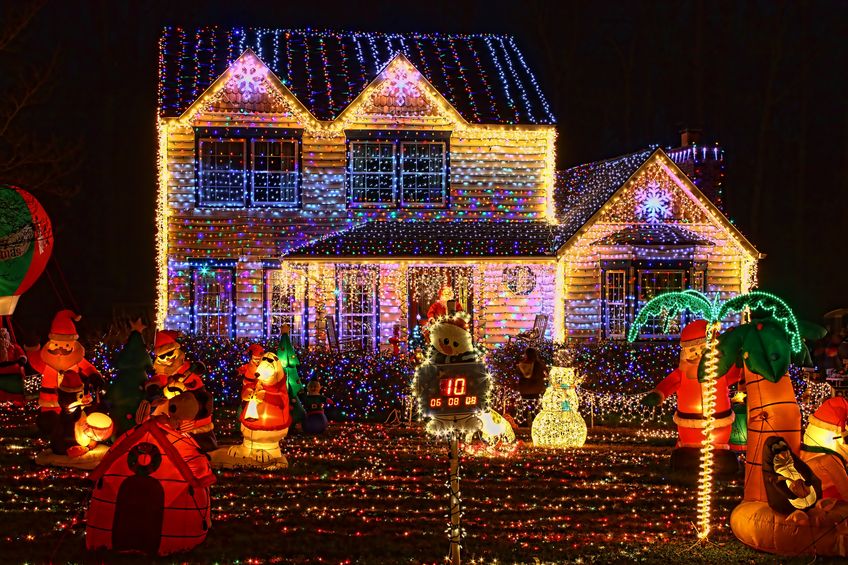 The most wonderful time of the year arrived. First, you got out your snowman figurines and set them in the window. Then, you lit the Christmas tree lights. Perhaps you set some electric candles in your windows to really have a cozy space. You look forward to a truly silent night.
Consequently, your neighbor did the same. Except for a few differences. Their snowman towers above the neighborhood with inflatable glory. A light up Santa on a motorcycle graces their roof. The International Space Station can see the lights covering their home from space. Your neighbors also wear sunglasses at night.
Don't let frustration get the best of you! However, if you are charged with a crime this holiday, Lerner and Rowe Law Group can help. Thankfully, we have the best criminal defense attorneys in Arizona.
What Could I Get Arrested for this Holiday Season?
We hope you won't give in to holiday stress and pressure. But just in case, be careful to not be charged with these common arrests in Arizona during the holidays.
DUI
From office parties to family dinners, the holidays provide a lot of opportunity for drinking. They also give a lot of opportunity for travel. Travel usually includes icy, snowy, or otherwise dangerous roads. Police often patrol so heavily traveled areas. Especially, they watch people leaving bars and other popular venues during the peaks of the holiday season.
Check out these tips to avoid a DUI:
Don't drink too much! Easy enough… right? Sometimes even the most experienced of drinkers miscalculate their alcohol consumption. With friends and family in town, drinkers tend to become more easily distracted and eager to have fun. Great! However, remind yourself to have fun responsibly.

Pace yourself. One of the best tried and true tricks. Having a glass of water in between drinks can help keep you under control.

Eat! If there is drinking going on, eat before, during, after, or all of the above. No need to save room for Santa's cookies by your fireplace. You will want to be sure to get home safely first.

When in doubt, keys out! If you think that there may be even the slightest chance that you have drank too much to drive, DON'T DO IT. Give your keys to a friend or bartender. They will get you home safely.

Take a rideshare or cab. These resources help party-goers a ton. Use them whenever you can.
Driving under the influence of alcohol endangers you and also others. Just in case you or someone you knows makes a poor decision, and is charged with a DUI, rest assured you can find the help you by contacting the Phoenix DUI lawyers with the Lerner and Rowe Law Group.
Theft
We know those lights are keeping you, your spouse, and your new baby awake. You asked your neighbors to please turn them off at night, but they refuse. Your other frustrated neighbors went over together as backup, and they still keep them on. Stay strong! Don't steal or move your neighbors' holiday decorations. Also, other common types of theft this holiday include:
Identity theft

Vehicle theft
Criminal Damage
The term criminal damage refers to conduct that damages or defaces another's property. Consequently, many people are charged with criminal damage in addition to another crime they committed. For example, someone committing a robbery or vehicle theft may break a window. The damage caused can add to your charges. Criminal damage also includes any action that lessens the value of the object or building effected, like adding unwanted art, symbols, and messages. If you do this, your charges can jump from a criminal damage misdemeanor to a felony. Criminal defense attorneys in Arizona commonly deal with these kinds of charges.
What is the difference between Criminal Damage and Aggravated Criminal Damage?
Criminal damage, described above, is a lesser charge than aggravated criminal damage. Criminal damage is also considered aggravated when the action took place against a school, church, mortuary, cemetery, construction site, and also agricultural or recycling centers.
What Can I be Charged With?
Arizona Law criminalizes many different varieties of damages. Thankfully, our criminal defense attorneys in Arizona can help you understand each of them. At the least, you may receive a class two misdemeanor charge. This means that you committed the most basic type of damage, and could face up to 4 months in jail and $750 in fines. You also could receive a class one misdemeanor charge. This means that the property's worth is between $251 and $1,000. Then, you face up to six months in jail and $750 to $2000 in fines. After this, the charges jump to felonies.
First, a class six felony means that the property values between $1,000 and $2,000. Sentences include a possibility of six to eighteen months in prison. A class five felony refers to an act against something valued between $2,000 or $10,000. Also, it refers to anything gang related or with an intent to intimidate. You could face eight months to two years in prison. A class four felony means that the property values at more than $10,000. For this, you could face up to 3.75 years in prison.
What Do Lawyers use to Defend Clients?
Charged with one of the crimes listed above? Are you also trying to figure out your options? You can certainly rest assured our criminal defense attorneys in Arizona will keep your best interests at heart!
Curious about how our attorneys will handle your case? Consequently, we compiled an interesting list to give you the scoop. See below for commonly used defenses that your lawyer may use:
DUI Defenses
Necessity or duress means you had to drive for the greater good or to avoid danger.

Entrapment means somehow, a police officer enticed you into driving drunk

For a drug DUI, there was a valid prescription for the medication.

An improper stop occurs when the police officer involved did not have proper legal cause to pull you over.

Incorrect administration and also accuracy of the field sobriety test or breathalyzer

Incorrect administration and accuracy of the blood test

Rising blood alcohol concentration

The accused was not driving

Improper police actions
Theft Defenses
Claim of right or ownership of property- you possibly own the property yourself

Intoxication- you were unaware of your actions

No intent to steal or also deprive permanently

Entrapment- see above
Criminal Damages Defenses
Permission- you claim to have gotten permission to do the action

Defendant Ownership- you own the property

Mistaken Identity- you thought it was yours

Accident
Interesting list- but you don't have to memorize it. Many defenses can be used to help your case. So, you should consult with an attorney to explore what defenses may be available for the specific facts of your case.
How do I find criminal defense attorneys in Arizona?
Thankfully, you don't have to look any further! Our criminal defense attorneys in Arizona at Lerner and Rowe Law Group stand at the ready 24/7. Simply give us a call at 602-667-7777. You also can use our LiveChat feature. Don't worry about an obligation after contacting us. We offer a free initial consultation! No risks to reach out and find out your options. We handle cases in Mesa, Chandler, Scottsdale, Gilbert, Phoenix, Glendale, Peoria and all across the state of Arizona. So, call us today!
The information on this blog is for general information purposes only. Nothing herein should be taken as legal advice for any individual case or situation. This information is not intended to create, and receipt or viewing does not constitute, an attorney-client relationship.