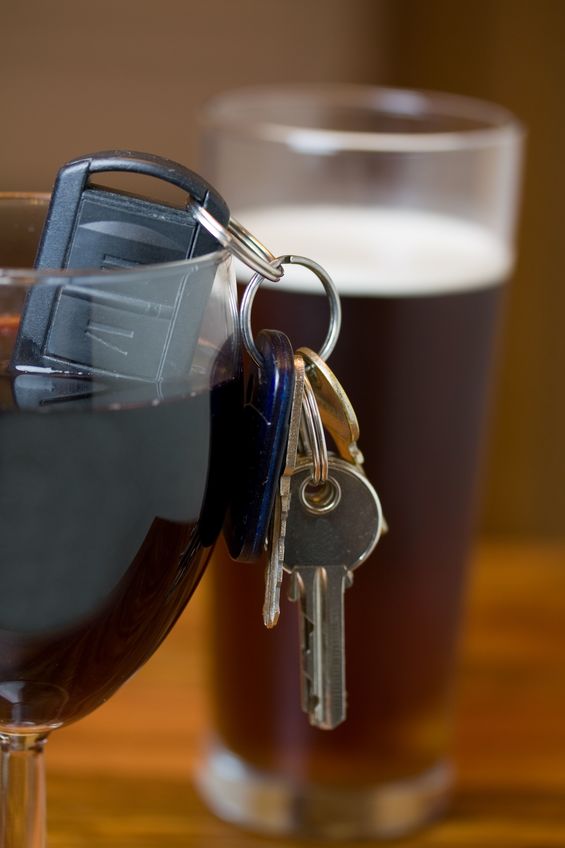 One of the most exciting nights of the year approaches- New Year's Eve. Most people want to say goodbye to the old year and hello to the new in a big way. For many, this means friends, late nights, fireworks, bar-hopping, and also drinking. Have a plan for your evening. Ensure that plan includes a safe way home. You don't want to start off 2019 in the wrong way. Check out this information about New Year's Eve DUI in Arizona. Also, if charged with a DUI, call Lerner and Rowe Law Group today.
Standard Drinks
Alcohols of choice range in variety. Do you know the differences in alcohol content between your favorite drinks? Think of your favorite New Year's Eve beverage. Do you know the typical alcohol content? Most beers are around 5% alcohol content per twelve fluid ounces. Lower that to 4.2% for a light beer and also raise to about 9% for malt liquors. Five ounces of table wine contains 12% alcohol on average.
One and a half fluid ounces of hard liquor contains 40% alcohol. Furthermore, some hard liquors include
Whiskey

Rum

Tequila

Gin

Vodka
These drinks usually come in some kind of non-alcoholic mixer. So, be sure to watch the strength of the drinks your bartender gives you. If you feel your bartender made a drink too strong, request another.
Blood Alcohol Content
Educate yourself and try to avoid getting a New Year's Eve DUI in Arizona. To remain below a safe blood alcohol content, women should have less than four drinks in two hours. Men should have less than five drinks in the same amount of time. Keep in mind that a "drink" does not mean whatever comes in the glass you ordered. A twenty- four ounce glass of your standard beer is technically two drinks already. A 9 oz glass of wine is almost two more. Then, add a double shot of whiskey in your Coke, and you drank well over the acceptable BAC limit.
Standard DUI
There are varied levels of DUI charges in Arizona and the charge will vary depending on your BAC. If you operate a personal vehicle and have a BAC of 0.08% but less that 0.15% you can be charged with standard DUI if the government can prove that was your BAC within two hours of driving (often referred to as 'actual physical control'). The BAC threshold drops to 0.04% if you operate a commercial vehicle or hold a commercial driver's license. For your first offense, you may have to pay a fine of $1,250 plus surcharges, be ordered to serve ten days in jail, have your license suspended, and be required to install an ignition interlock device for 12 months. In addition, you will be assigned community service and an alcohol education program.
For a second offense, the fines jump to around $3,000 and jail time of up to 90 days with a mandatory minimum of 30 days. Along with community service, education, installation of an ignition interlock device, and you could also have your license revoked.
Hiring an experienced Phoenix DUI lawyer is the best way to try to minimize the consequences of a DUI charge.
Extreme DUI
An extreme DUI happens if the driver has a BAC of 0.15% or higher. For a first offense, penalties can include a minimum 30 days in jail and a fine starting at $2,500. Community service, education, and installation of an ignition interlock device are also required. For a second offense extreme DUI, jail time could be over one hundred and twenty days, and the fine could be over $3,250. Again, community service, drug and alcohol education, and also installation of an ignition interlock device will be ordered. The conviction may also result in the revocation of your driver's license.
Aggravated DUI
A DUI is considered aggravated if the driver had:
a passenger under fifteen years old

a revoked or suspended license

committed their third DUI offense in eighty-four months

an ignition interlock requirement to drive
Aggravated DUI is a felony. It is a class 6 felony if the driver had a child under the age of 15 in the car. A class 6 felony is punishable by by a term of imprisonment of 4 months to two years. In all other circumstances aggravated DUI is a class 4 felony. A class 4 felony is punishable by a prison sentence of one year to 3.75 years. Probation is available, but if convicted of a class 4 aggravated DUI you must serve a mandatory minimum four months in prison.
Signs of Impairment
If you're pulled over after a night of celebrating, during your contact with police they will be looking for these common signs of impairment:
Red, watery, or bloodshot eyes

Odor of alcohol

Speech slurs

Difficulty walking

Speaking louder than normal

Appearing sleepy or unresponsive

Inability to multitask

Unable to follow commands
If the police officers believe they have probable cause for DUI, you will be arrested. So, if this happens you should contact a DUI attorney in Phoenix right away.
Alternatives to Driving
Today, there are many alternatives to driving yourself home. So, designate a driver to remain sober throughout the evening. Many bars give designated drivers free sodas to support their commitment to the safety of their friends. No designated driver? Leave your car at home. Also, all a taxi or rideshare to take you to your NYE destination and back. Do what you can to avoid a New Year's Eve DUI in Arizona.
What Happens at a DUI traffic stop?
Police need to have legal cause to pull you over. Generally, this means probable cause you committed a crime or reasonable suspicion a traffic law was violated. If police signal for you to pull over, obey. You have the ability to wait until you are in a safe spot to pull over. When the police officer approaches your window he or she will ask for you license and registration. When responding to the officer's commands, he is observing you for signs that you have been drinking. If he or she has reason to believe you are impaired, they will then ask you to get out of the car for further DUI investigation.
During this further DUI investigation, you will be asked to perform Field Sobriety Tests. These tests are used to establish probable cause you are committing a DUI. Police officers may ask you to walk in a straight line or touch your hand to your nose. Our DUI lawyers advise you to refuse these tests, however, the officer may still arrest you. New Year's Eve is a known drinking holiday in Arizona, so DUI officers will be out in full force.
New Year's Eve DUI in Arizona
It can be so easy to fall into the New Year's Eve hype! Now, you know what to watch for in order to have a safe evening.
However, if you're charged with a New Year's Eve DUI in Arizona, be sure to reach out to the criminal attorneys at Lerner and Rowe Law Group. Our DUI lawyers are here listen to your case for free. You can reach us any day of the year, any time of day. Contact us here, and use our LiveChat feature to schedule your free consultation. Also, you can call us at 602-667-7777.
The information on this blog is for general information purposes only. Nothing herein should be taken as legal advice for any individual case or situation. This information is not intended to create, and receipt or viewing does not constitute, an attorney-client relationship.