MIP Defense Attorneys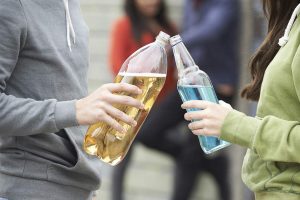 Arizona minor in possession of alcohol (MIP) laws were created to help discourage minors from possessing and consuming alcohol. Under these laws, parents can also be held liable for the actions and choices of a minor in their care. Exceptions to MIP laws include use of alcohol for religious ceremonies or medical emergencies.
At Lerner and Rowe, our experienced juvenile criminal defense attorneys are familiar with how these laws can impact a minor's future if they receive an MIP citation. So, contact us today for a free consultation and to get answers to questions you may concerning MIP laws in Arizona.

Arizona Minor In Possession of Alcohol Penalties
Arizona's zero-tolerance for underage drinking clearly states that minors aren't allowed to have alcohol in their possession at any time. This includes just holding an alcoholic drink or riding in vehicles transporting alcohol.
Possession of any alcohol, including unopened bottles of beer, wine or liquor, warrants legal ramifications. So, police officers do not have to prove a minor was actually drinking to write an MIP citation.
Penalties for an MIP citation in Arizona may include:
Jail time
Community service
Fines, including court costs
Attending a drug/alcohol program
A misdemeanor conviction on your criminal record
Another penalty may include driver's license suspension for attempt to purchase alcohol or gain entrance into a licensed alcohol establishment with fake identification. For minors who don't currently have a license, the court can also suspend their right to apply for a driver or non-operating identification license.
Underage DUIs carry even more severe consequences, which can include a two-year suspension of your driver's license.
Get Legal Help With an Arizona MIP Citation
If your child is facing an MIP citation in Arizona, contact our highly skilled and board certified juvenile criminal defense attorneys at Lerner & Rowe at 602-667-7777. We have the best attorneys in Arizona with vast experience representing minors in alcohol-related cases. We also offer free consultations and affordable payment plans. So, contact us today. Lerner and Rowe Law Group look forward to hearing from you and also answering your questions.